Healing your digestion is key for relieving symptoms of PCOS. By viewing food as your most important source of daily medicine, your entire system can shift and heal.
Fermented foods can be a great aid to support digestion and heal your gut. They can increase nutrient absorption and provide a natural source of healthy gut bacteria. 
There are SO many benefits to fermented foods, and infinite creative ways to incorporate them into your diet. 
If you have symptoms of inflammation, you'll want to avoid using fermented foods in excess as they can increase heat in the body.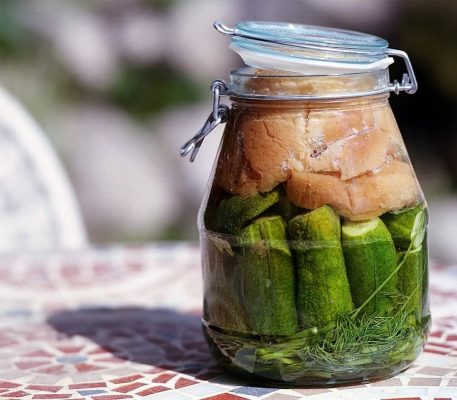 Benefits of Fermented Foods for Your Gut
Fermented foods are made by allowing the natural sugars found in the food to interact with bacteria to change the chemical structure of the foods.
Here are some of the benefits they bring:
Fermented foods have a longer shelf life and can make nutrients more absorbable as they break down over time.
Offer a dose of probiotics as well as boosting immunity and improving digestion.
Help defend against bacteria in the gut by creating a protective lining in the intestines and has been shown to improve allergy sensitivities.
Improve oral hygiene – the beneficial bacteria found in fermented foods can help prevent gum disease and boost your oral microbiome.
Incorporating Fermented Foods into your Diet
One of the simplest way to include fermented food into your diet is to enjoy an occasional kombucha. Look for ones made without cane sugar – ALWAYS read the labels when shopping and avoid refined sugar when possible. 
Here are some other of our favorite fermented foods, you can experiment with buying or making yourself:
Pickles – Look for pickles with the label – "lactic acid fermented pickles". Pickles offer tons of vitamins and minerals as well as probiotics if they have been fermented.
Kombucha – Find a brand that uses fruit juices as the sugar needed for fermentation.
Sauerkraut – This traditional food is high in fiber as well as Vitamins A, C, K. Fermented sauerkraut can be found in the refrigerated section and will be labeled.
Yogurt – There are so many amazing dairy-free yogurt options available now! Look for unsweetened plain yogurt made with almond, coconut or cashew milk. This tart option can be used in sweet or savory dishes.
Adding in just 1 TBSP per day and gradually increasing to 1 TBSP per meal of fermented foods like kimchi or sauerkraut can greatly help improve digestion, support your immune system and even improve your oral health!
Amazing, right?
How will you include fermented foods into your diet today?
Helpful Eating Practices 
In our recent Monthly Training, Robin Nielsen discussed how the process of cooking at home allows the body to prepare enzymes for digestion so the nutrients of the food can be fully absorbed.
Fully chewing before swallowing allows the digestive enzymes in the saliva to be activate, allowing us to reap the full benefit of what the food has to offer.
Sitting down and being fully present while eating will greatly improve digestion as well.
What are your favorite eating practices or rituals? How do you use fermented foods in your life?
Share with us in our Natural Solutions Sisterhood right here:
https://www.facebook.com/groups/naturalsolutionshormonebalance/
Access more resources in your 5 Element Resource Center right here (members only):
https://www.pcos.com/store/5-elementsystemresourcepage/
Next Steps
Becoming victorious over the symptoms of Polycystic Ovary Syndrome is not easy, but you can overcome your PCOS symptoms to live the life you deserve.
It takes strength, courage, and perseverance. It can be challenging and that's why Insulite Health created this website. It's has information and resources that will help you balance your hormones and reverse PCOS symptoms.
So take these next steps now! Use the links below to learn how to make the changes that will transform your health and your life forever.
Insulite Health, is committed to helping women reverse their symptoms of hormone imbalance. Scientific research has revealed that this imbalance can be a primary cause of many devastating health symptoms. Hormone Imbalance can also underlie the increased risk factors for PCOS (Polycystic Ovarian Syndrome) - a major source of serious diseases as well as cause of excess weight gain, adult acne, unwanted facial hair, depression, anxiety, and heartbreaking female infertility.

©Insulite Health, Inc., pcos.com empowers women with PCOS to transform their lives through a process of healing with the 5-Element PCOS System – a complete solution for helping women reverse the symptoms of PCOS and hormone imbalance.